Good night quotes are the perfect way to tell your loved ones just how much they mean to you. They will settle into a restful sleep with a smile on their face knowing you are thinking of them.
Saying goodnight to someone you care about in a meaningful way actually can have a powerful impact on the health of a relationship.
If you show consideration, thought and care to the words you send your loved ones. It will be something they remember both consciously and subconsciously even while in a peaceful slumber.
Maybe you are looking for the perfect way to tell someone you love them before they go to sleep, or perhaps want to send them some positive vibes after a hectic day to help soothe their mind.
If you want to find the perfect combination of thoughtful words about love, positivity and romance for him and her then we've got you covered.
So why is saying goodnight so important?
Put simply, when you are looking to go to sleep this is when your mind is trying to let go of the day and unwind itself. You might be…
Replaying conversations with people in your head.
Thinking about all the things you have done.
Thinking about all the things you still need to do.
Trying to unwind from the stresses and strains of the day.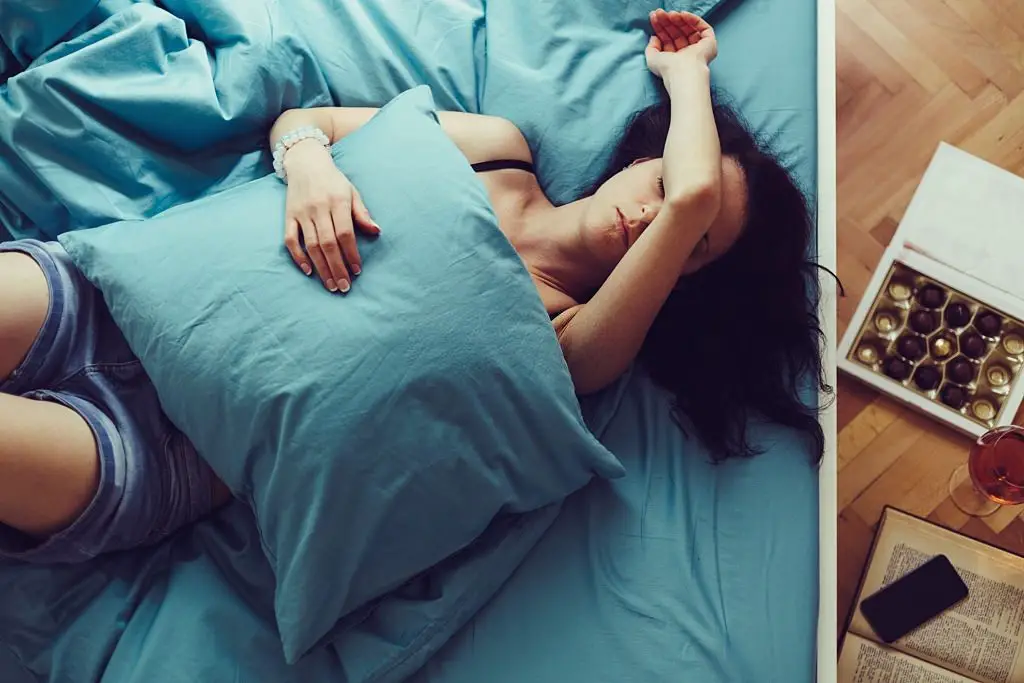 What many people need before bed is a break from all this thinking.
If you share these good night quotes with a loved one. It helps them break the pattern of this thinking, and make them feel or think more along the lines of…
Realizing tomorrow is a new day.
Seeing a restful night's sleep as most important at that moment.
Knowing you love and care for them dearly.
Being thankful for rest and the opportunity to sleep in a cozy bed.
Improving loved ones thought-loops or habits right before bed can be a seriously powerful thing. Sleep is important for all of us, not only for health but also for our mental ability to compute each and every new day.
Using these good night quotes you can share messages about love, romance and comfort with your loved ones.
Let's take a look a look at some of the quotes and sayings you can share that help promote a happy and healthy night's sleep. 😁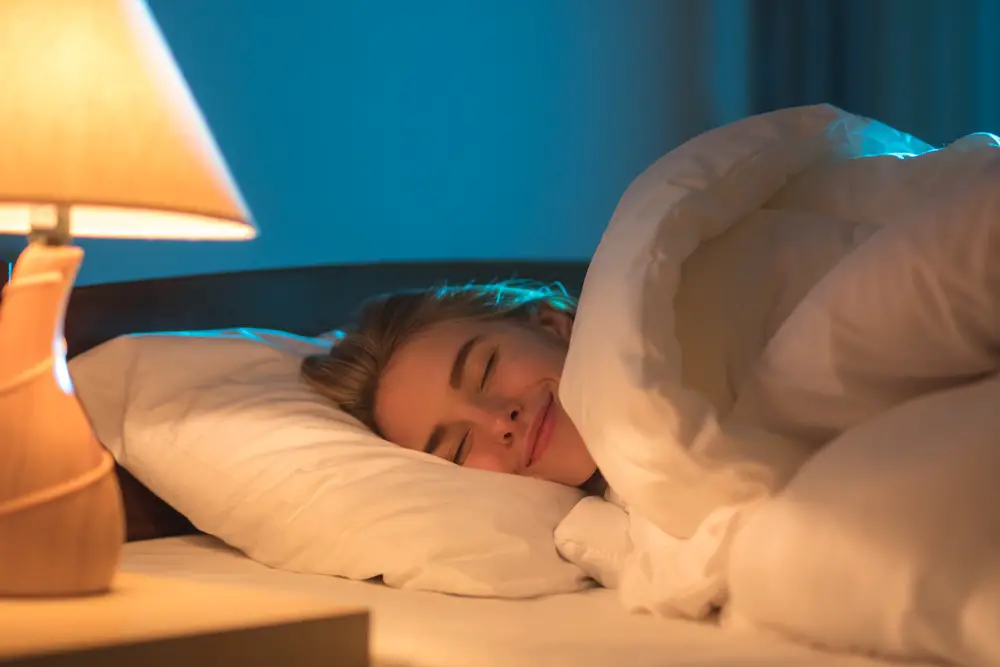 Good Night Quotes For Him
Are you looking to surprise your boyfriend, husband or crush by sending him meaningful or thoughtful good night quotes or messages?
Send the guy you care most deeply about a heartfelt or amusing quote and message before bed to help him feel inspired and get a restful night's sleep. 🤩
I'm in my bed, you're in your bed. One of us is in the wrong place.
As you fall asleep, I want you to remember what a good person you are. Remember that I admire you and care for you. Sweet dreams!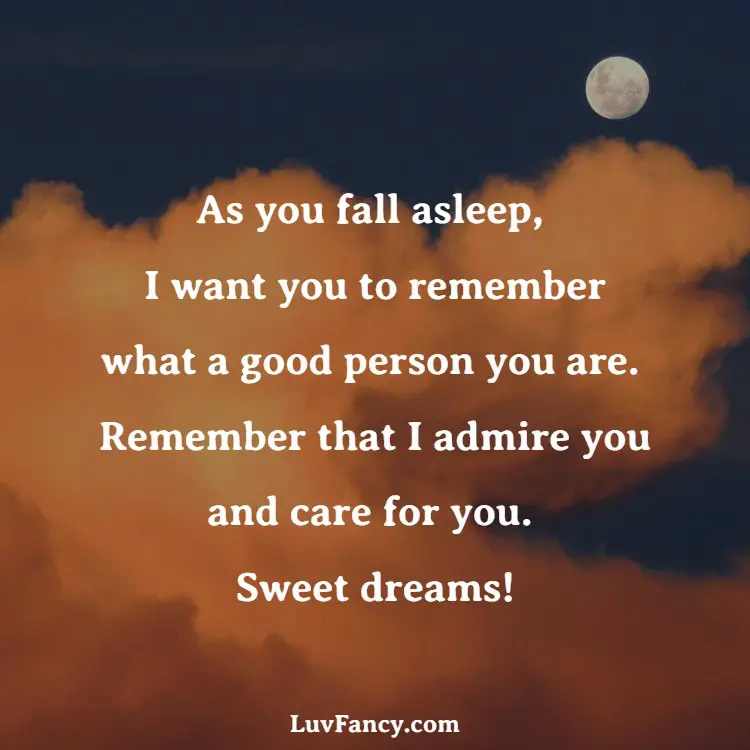 I know what you are the one because when we are apart I feel incomplete. I never want to be without you. Goodnight.
There is something that is big, warm and fuzzy. Before you get too many ideas, you should know that it is a good night hug sent from me to you!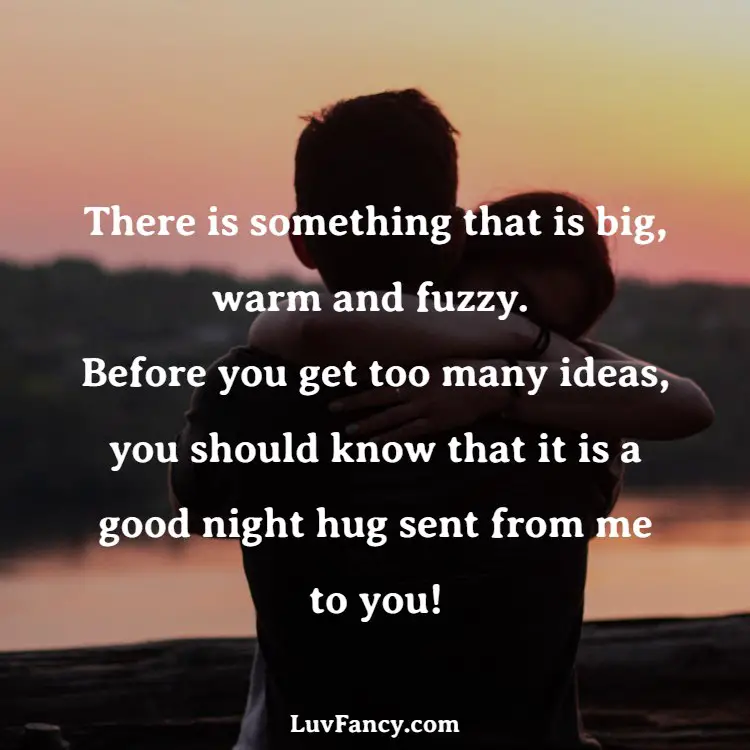 Each hour is crawling by like years. I cannot wait to be in your arms yet again.
The night breeze is blowing through my hair and the soft touch reminds me of your kisses. I wish I didn't have to miss you this much.
As the moonlight dims and the world goes quite, give yourself some rest. Here's to hoping that your sleep is as sweet as you are.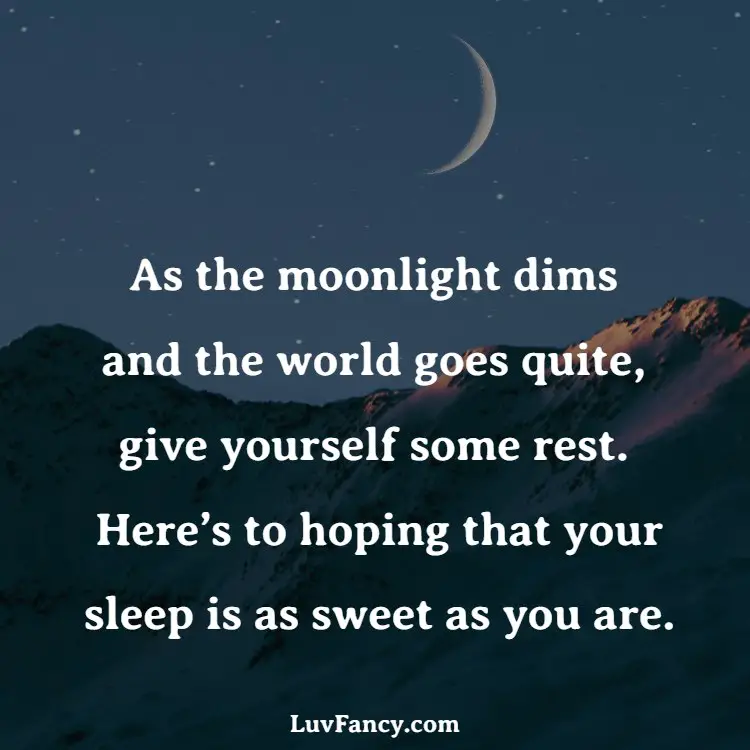 All I do each day is wait to be with you again. My entire day revolves around the hope that I can spend my evenings in your arms again.
Good Night Quotes For Her
Tell her how much she means to you in a loving and dreamy way with some of these good night quotes for her.
Take her mind away from a busy day, and let her know you only have thoughts of her before going to sleep. 💤
Take a look out your window now. Although we may be apart at the moment, we can both gaze up at the same moon.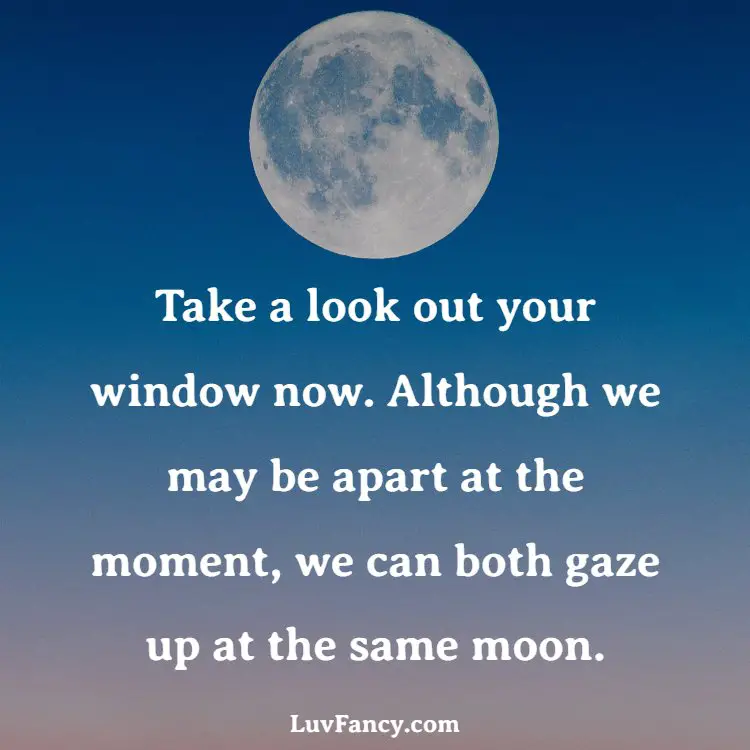 Your bed just called me. It said that it wanted you and me to join it in dreamland. Let's get moving and answer the call.
I must get my beauty sleep. See you in the morning.
While you dream, I wish that each hope and goal comes true. I just want you to receive everything that you have wished for.
Just look up, we are both under the same starry sky.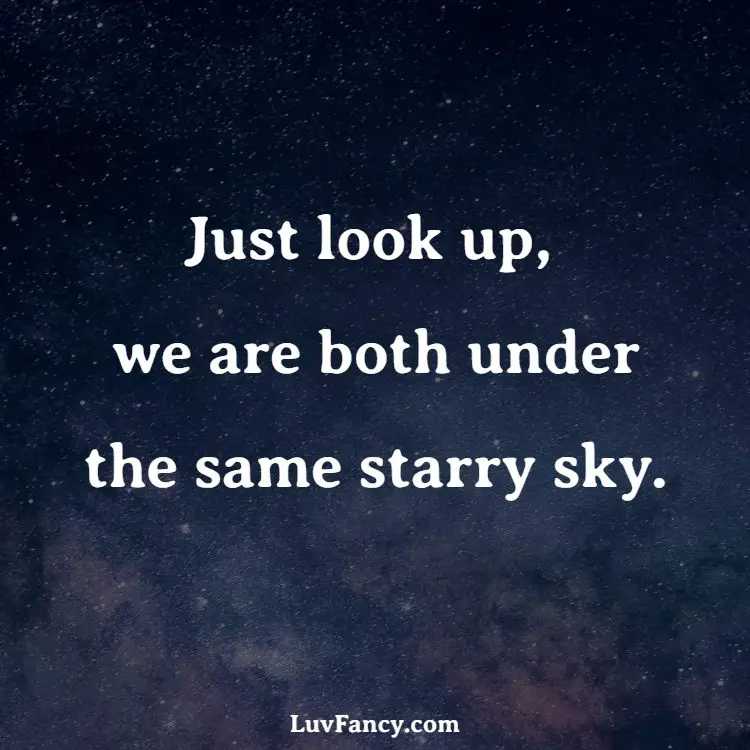 Take a breath and gaze up at the stars. See the two brightest stars? Those are my eyes twinkling back at you.
There may be a billion yesterdays and a trillion tomorrows, but there is only ever one today. I would never let one day pass without letting you know that I am thinking of you.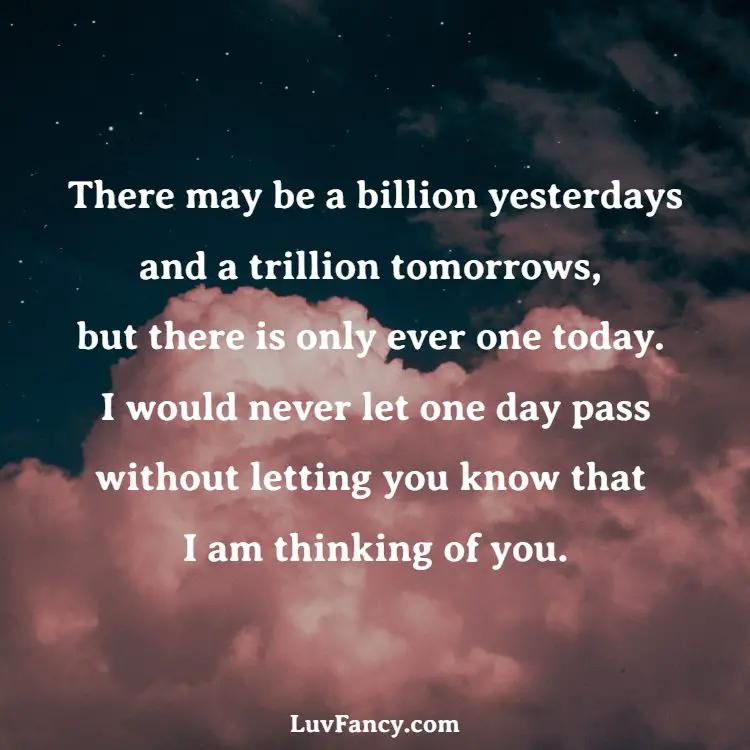 Good night my dearest love and have pleasant dreams. Here's to the hope that tomorrow will be as sunny and bright as you are.
I wish you the sweetest dreams, my Princess! Rest your head on your pillow and close your eyes. I will be right beside you. Let's meet together in our dreams! Where shall we go?
Good Night Quotes For Love
Surprise your loved ones with charming quotes or sayings that help inspire love and happiness.
Never be afraid to tell someone how you truly feel, use these good night quotes for love to share with that special person that owns your heart. 💌
One day, we will never have to say goodbye, only goodnight.
I wish I was there to hold you tight, instead of just sending you this loving "Good Night".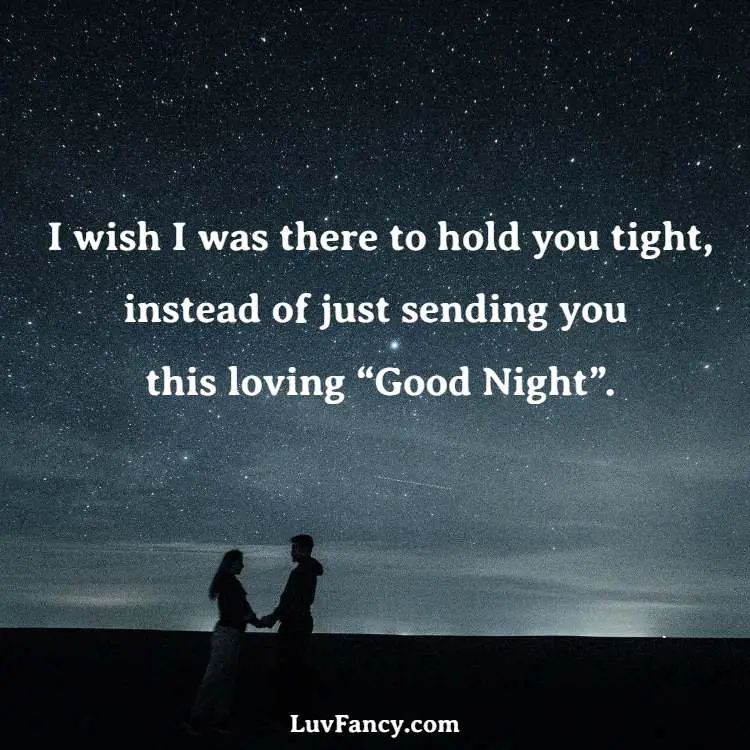 Love is one of the simplest feelings. All I dream about is capturing your heart each night. You already have my heart.
Tonight, I would walk a thousand miles just to be with you. Missing you, my love.
All I wish is that the nights when we are together would never end. When we are apart, I cannot bear it. Good night, my love.
Read me a story then tuck me in tight. Tell me you love me and kiss me goodnight.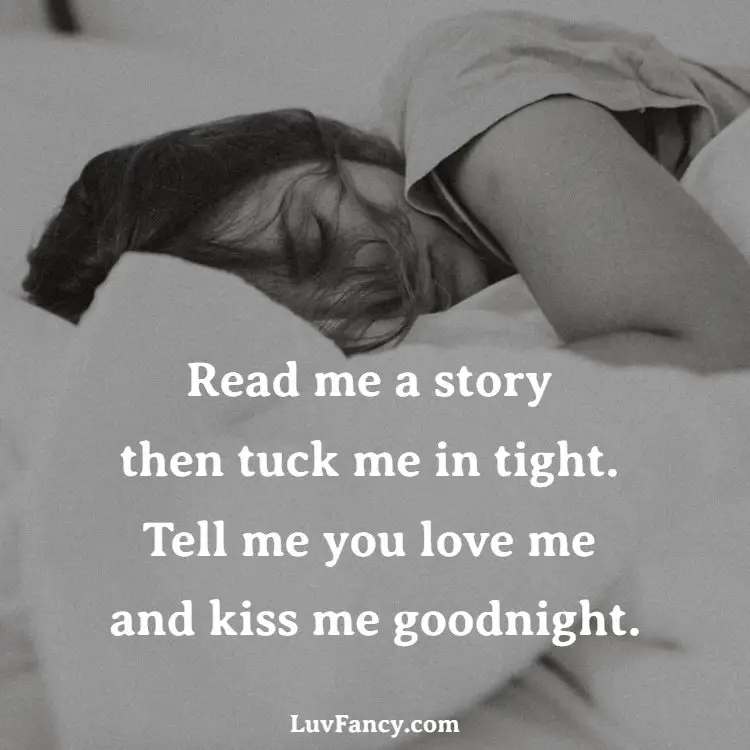 No matter how far away you are, you will always be in my thoughts. Each day that we are together is the best day of my life.
Tonight I'm going to sleep earlier because I want to see you in my dreams earlier tonight. Good Night!
Romantic Good Night Quotes
Being romantic is not only limited to day time. The best time to send someone you care about a romantic message is often once the sun goes down.
Here are some romantic good night quotes & messages you can share to describe your true feelings. 🥰
You'll be the last thing I think of before I fall asleep and the first thing I think of when I wake up.
Each day I wish that my dreams will come true. Then I remember that I am now with you.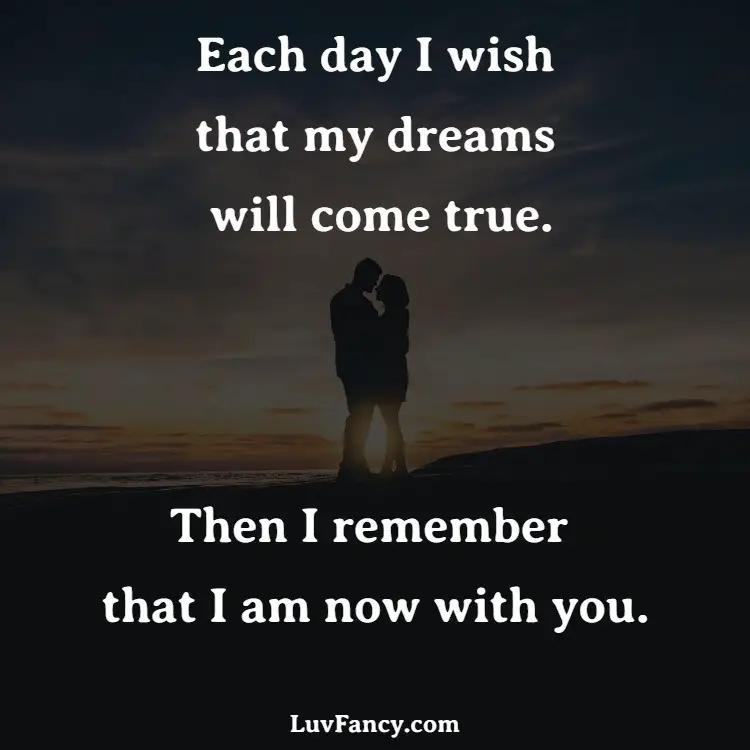 I don't dream about you, because I can never fall asleep thinking about you.
All I wish that I could be there to say good night instead of sending you this message.
Here is a short line to keep in touch because you're always on my mind very much.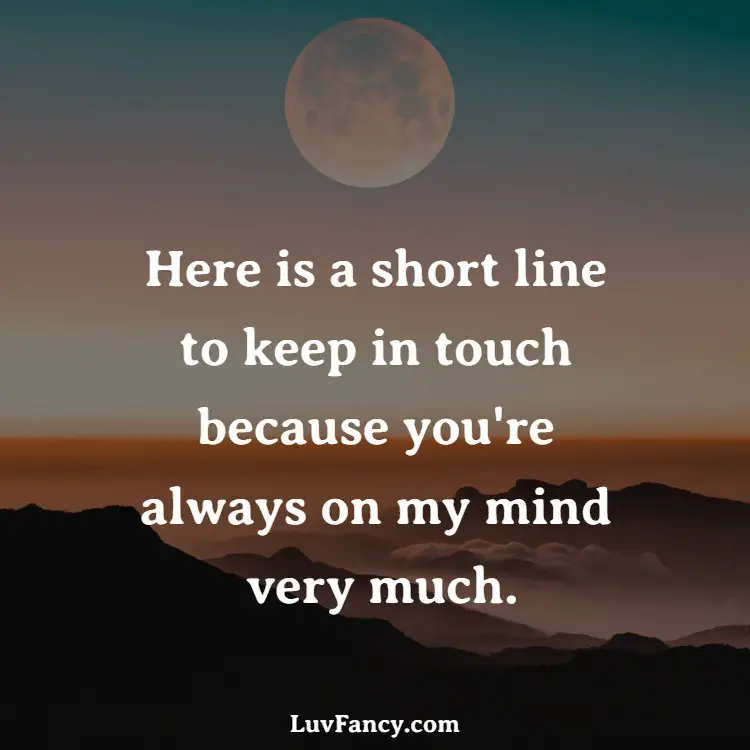 Although I love the stars that dot the night sky, I love the stars in your eyes even more. While I sleep, I will think about my favorite stars and wait to be with you again.
The sun is upset now, but the moon dances in joy. Although the sun is depressed at seeing you go, the moon gets to enjoy the whole night with you.
Good night. May you fall asleep in the arms of a dream, so beautiful, you'll cry when you awake. – Michael Faudet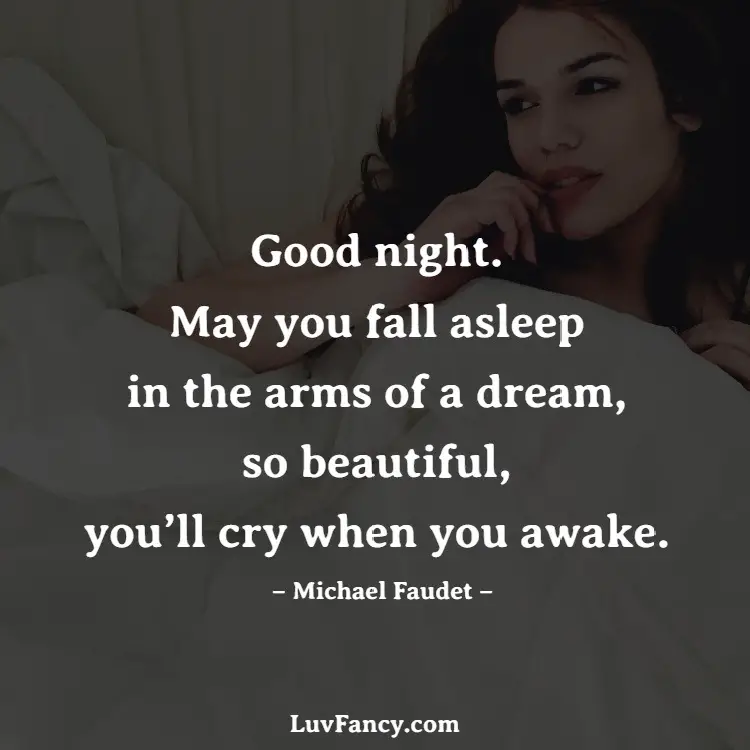 Each night, I hope that the moon is large and bright and you will be happy and right. When you turn off the light, keep in mind that I am dreaming of you.
The thought of being with you tomorrow is what helps me through today. Good night, my love!
Good Night Quotes For Sleeping
Do your loved ones have trouble sleeping when they are away from you? Or perhaps you feel they need an inspiring message to help them drift away and think of tomorrow as a brand new day.
Send them some of these quotes for sleeping to inspire their minds and hearts before a restful night's sleep. Make their imagination flow freely into their dreams.⭐
The day is over, night has come. Today is gone, what's done is done. Embrace your dreams, through the night. Tomorrow comes with a whole new light.
May you dream of lovely things and to find them real when you awake.
I have loved the stars too fondly to be fearful of the night. – Sarah Williams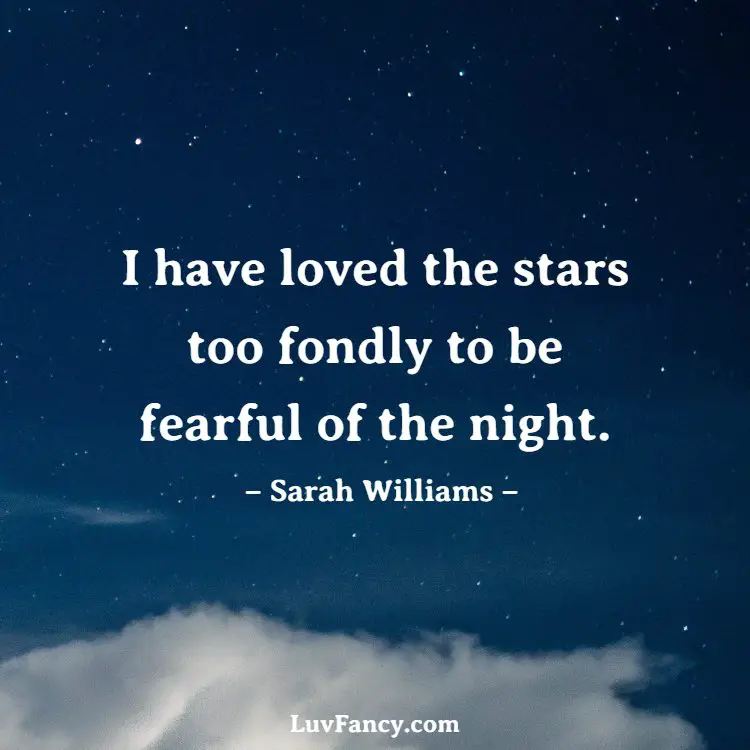 Each night you sleep is a signal that a new beginning awaits you.
Wake up with determination, and go to bed with satisfaction and a smile.
Touch your heart and shut your eyes, dream sweet dreams and sleep tight.
Here is to hoping that angels will guard you while you dream and the gentle breezes of the night will keep you cool. If it is too cold, may your blankets be warm as you drift on to a gentle rest.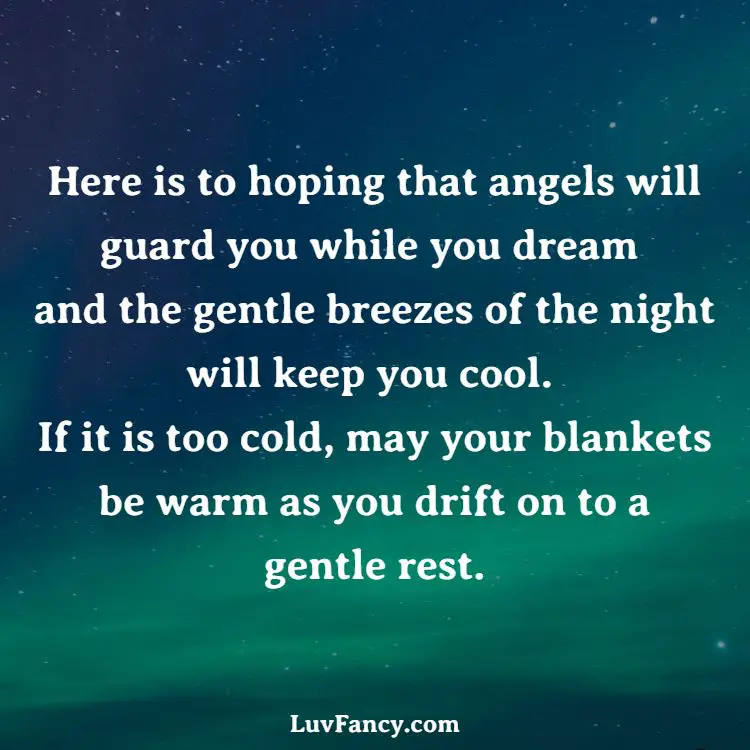 Day is over, night has come. Today is gone, what's done is done. Embrace your dreams, through the night. Tomorrow comes with a whole new light.
Night is to see the dreams and day is to make them true. So its good to sleep now and see the dreams. Good Night!
Stars can't shine without darkness.
Sleep is the best meditation. – Dalai Lama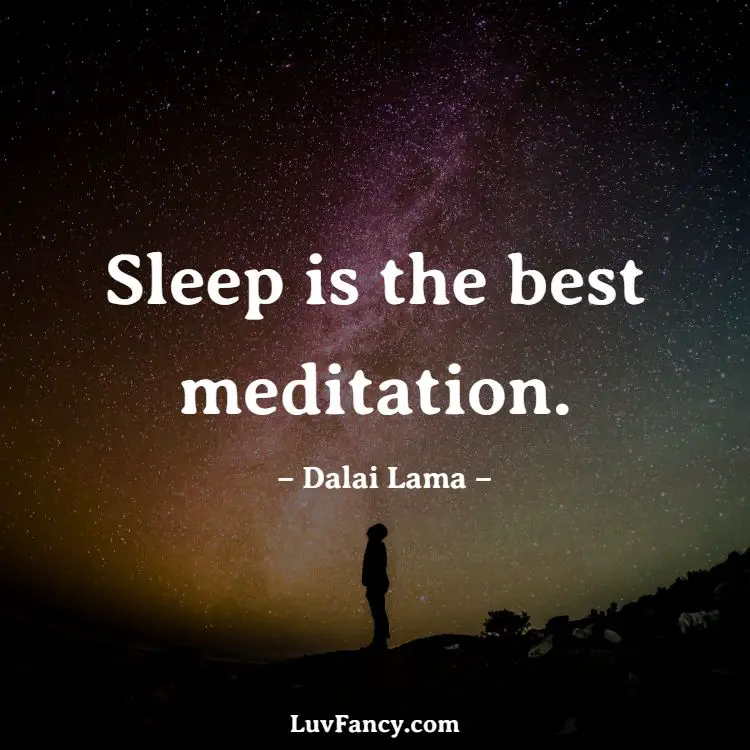 Always remember to fall asleep with a dream and wake up with a purpose.
The stars and moon arrive just to wish you a good night. Let the light of the moon guide your dreams as you pass the night away.
Never, say dreaming is useless, because life is useless if you can't dream.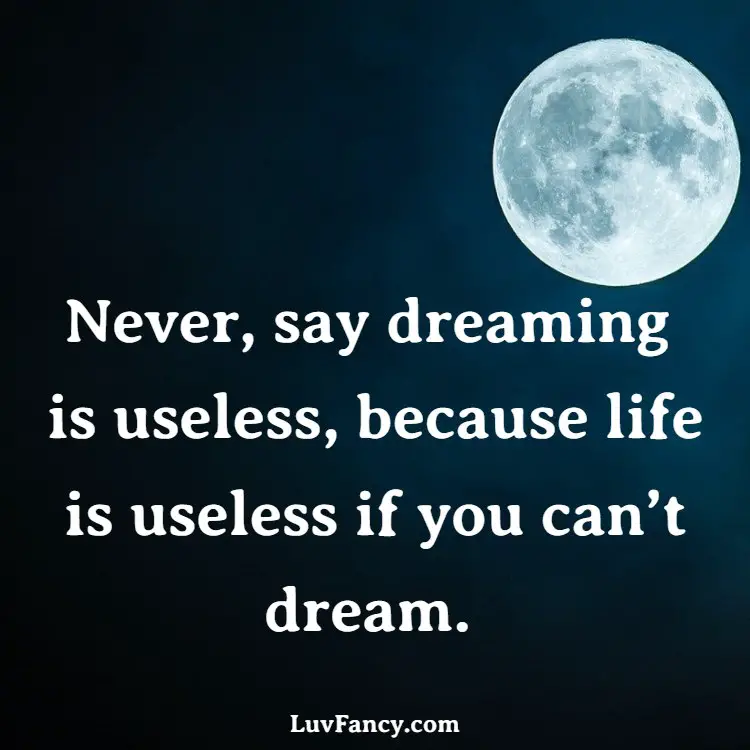 Life always offers you a second chance. It's called tomorrow.